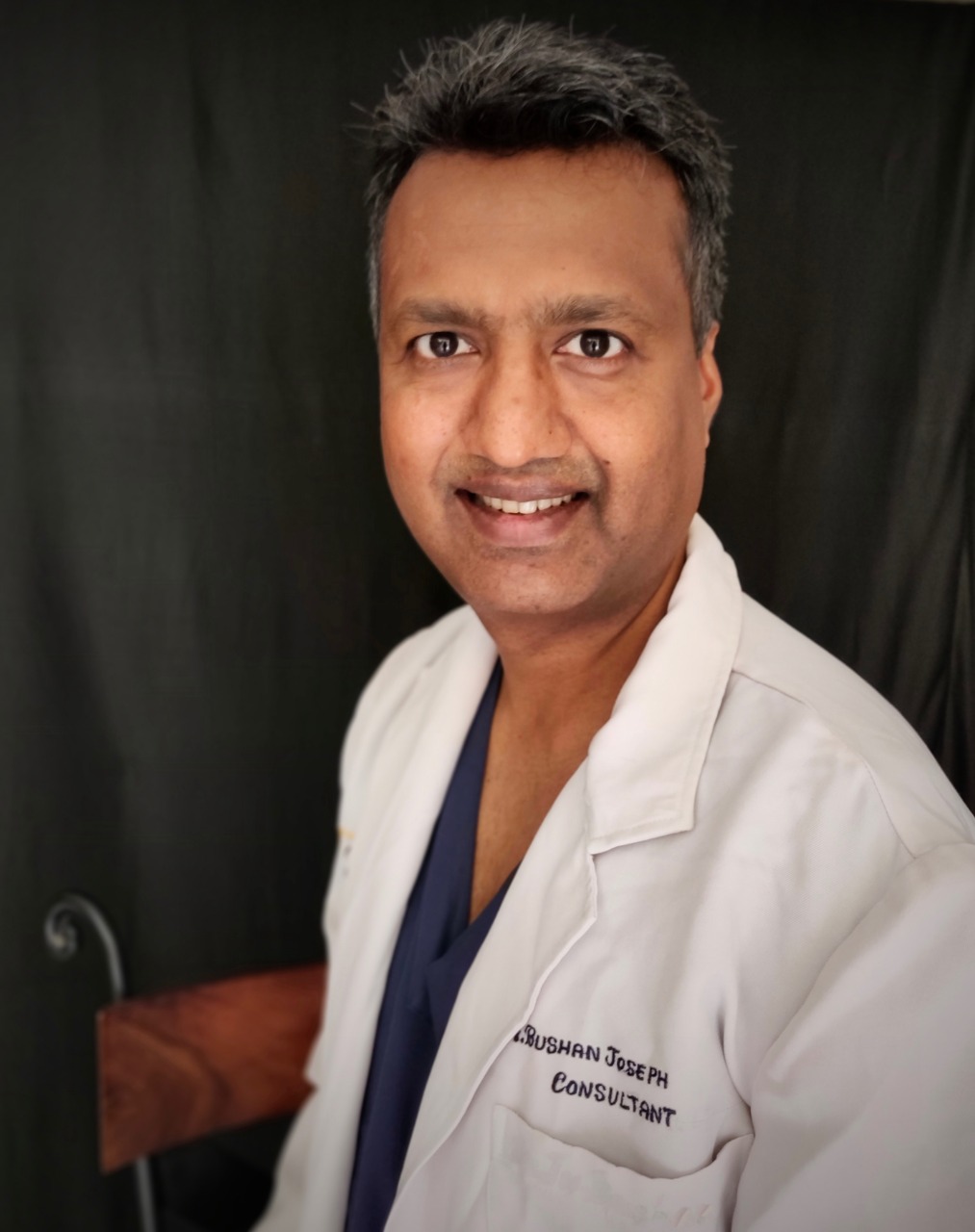 Dr Bushan did his MBBS from St Johns medical college, Bangalore, and went on to do his specialty training in Neurosurgery and Spinal surgery from the National Institute of Mental Health And Neurosciences (NIMHANS ) , which is recognized world wide as one of the premier centers for the treatment of brain and spine disorders.
Started his career as: Consultant Neurosurgeon at St Johns medical college, Bangalore.
Following this, he was appointed as Senior Consultant and acting Head of Department of Neurosurgery at SVIMS where he was instrumental in restarting neuro-endoscopic and neurovascular surgery. During this period he was also actively involved in the training of neurosurgery residents.
Since early 2006, he has been consulting at HOSMAT hospital.
Areas of expertise
Neuro surgery encompasses the surgery of the Brain, Spine and the Nerves and is a very rapidly expanding field with various sub-specialities like neuro-vascular , neuro-onchology, skull base, neuro-endoscopy, endo-vascular, spine, pediatric neurosurgery, gamma knife, peripheral nerve, steriotaxy and cranio facial surgery. Given the complexity of the surgeries and the skill required to successfully carry out these procedures, it is next to impossible for a single surgeon to be able to do the entire spectrum of surgeries with consistent good results. Rather than being a "Jack of all trades", Dr Bushan had decided to concentrate on spine surgery, adult brain tumors and head injuries, and to strive for excellence in these fields.
Dr Bushan has identified disorders of the spine as his area of special interest and has done award winning original research on the effects of injury on the spinal cord. His areas of expertise include degenerative disorders of the spine (lumbar and cervical spondylosis), adult and pediatric spinal trauma, failed backs and re-do spine surgery, atlanto-axial dislocations, sacral cordomas, spine tumors, congenital disorders of the spine such as tethered cord, split cord and myelomeningocele etc.
Dr Bushan is one of a very small number of Neurosurgeons who has undergone training for both Spinal Deformity Surgery and Key hole (Endoscopic) spine surgery and is performing these surgeries on a routine basis with excellent results.
In addition to spine surgery, Dr Bushan is also actively involved in the management of adult brain tumors and head injuries.
Surgical Philosophy
Dr Bushan believes that surgery should be considered only when all other modalities of treatment fail. The right surgery, at the right time for the right patient will give the desired result. Hasty surgery or surgery that might not be "absolutely" required usually results in sub optimal results and a very unhappy patient. Patients also need to be fully educated about the nature of their illness, the surgical procedure being planned, the likely post operative events and the time frame for return to normal activities. The patient and relatives are encouraged to clear doubts, discuss treatment options and to take an active part in the entire treatment process.
Book an Appointment
In view of Dr Bushan's Surgery schedule and the possibility of unplanned emergency surgeries, patients are encouraged to call the hospital number and fix an appointment in order to avoid excessive delay.
Dr Bushan Joseph
Consultant Neuro and Spine Surgeon
HOSMAT Hospital
45 Magrath Road
Bangalore - 560025
Or use our contact form. We'll get back to you as soon as possible!